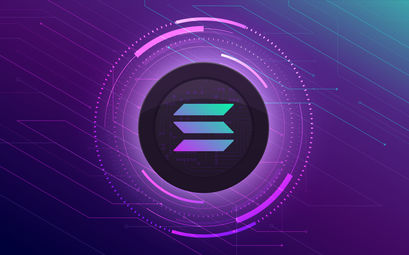 Predictions for the Solana NFT price in the wake of a strong sales recovery
Last updated 29th Sep 2022
Solana
The Solana price has been fluctuating in recent weeks.
The August and September sales of Solana NFTs have jumped sharply.
The Solana price remained in a consolidation mode as investors considered the market's volatility. A month-to-date low of $33.70 has been exceeded by about 12%. As the ninth largest cryptocurrency in the world, it has a market cap of more than $11.6 billion.
Solana NFTs surge
Solana is one of the biggest blockchain projects in the world. In the past few months, developers have launched projects in decentralized finance (DeFi), metaverse, and non-fungible tokens (NFT) using the network.
Solana has become the sixth biggest DeFi blockchain after Ethereum, Tron, BNB Chain, Avalanche, and Polygon. It has a total value locked (TVL) of more than $1.3 billion. Some of the top DeFi apps in its ecosystem are Solend, Marinade Finance, Raydium, and Lido.
Solana has also become a leading player in the NFT industry. Data compiled by CryptoSlam shows that it has become the second-biggest NFT blockchain project after Ethereum. And while the overall volume of NFTs has dropped, Solana's trend has been positive.
The total NFT sales in Solana dropped from $311 million in April to $261 million in May and $91 million in June. In August, the volume was $71 million. And in this month, the volume has risen to over $122 million, meaning that activity is improving.
Notably, the total number of transactions rose to more than 2.6 million, which is the highest it has been on record. The number of unique sellers has also jumped in September. Therefore, this is a sign that activity in the network is bouncing back.
Solana has also been used to build some of the top Web3 projects in the world like StepN, Audius, Magic Eden, and Grape Protocol.
At the same time, the number of Solana stakers has bounced back in the past few days. It has moved from this month's low of 545k to 570k, which is also a positive sign.
Solana price prediction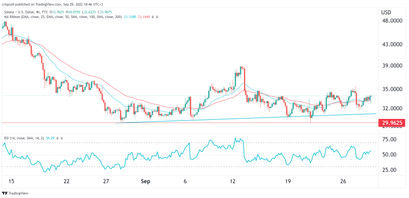 The four-hour chart shows that the SOL price has been in a strong bullish trend in the past few weeks. It has moved from this month's low of $30 to $33. The coin has remained above the ascending trendline shown in blue.
Solana has moved to the 25-day and 50-day moving averages while the Relative Strength Index (RSI) has moved slightly above the neutral level of 50. Therefore, the coin will likely continue rising as bulls target the next key resistance level at $40. A drop below the support at $30 will invalidate the bullish view.