The Solana Price Prediction: Watch out for dead cat bounces
Despite fear in the market due to the FTX and Sam Bankman-Fried controversy Solana appears to be holding its own.  With a slew of projects using Solana (SOL) like Audius the blockchain is weathering the latest storm in the crypto markets more than capably.
Solana price has jumped by over 80% from its lowest level this week.
Solana has a bigger exposure to Alameda than other coins.
Solana price made a steady recovery on Thursday as investors bought the coin's dip. SOL was trading at $20 on Friday, which was about 80% above the lowest level this week. Still, Solana remains about 86% below where it started the year at.
Solana exposure to Alameda
Alameda Research was the first company that Sam Bankman-Fried (SBF) started. The company's main business was high-frequency crypto trading and venture investing. In the past two years, it has invested in some of the best-known crypto projects in the world like Solana and Near Protocol.
As a result, Alameda a became one of the biggest holders of its portfolio tokens. Therefore, its collapse led to a major contagion in most of its portfolio coins, including FTX Token. Solana price dropped as investors anticipated more supply as Alameda dumped the coin. As this happened, many more Solana holders exited their investments.
SOL price has staged a strong comeback in the past two days for three main reasons. First, it has recovered as investors bought the dip since Solana is one of the biggest blockchains in the world. Unlike many other chains, Solana is used widely to build some of the biggest platforms in Web3 like Audius and Solend.
Second, Solana has rebounded because of the strong performance of cryptocurrencies and stocks after the weak US consumer inflation data. The numbers showed that the headline consumer price index (CPI) declined from 8.3% in September to 7.7% in October.
As such, there is a likelihood that the Fed will slow its rate hikes. Other cryptocurrencies like Bitcoin and Band Protocol have also rallied.
Finally, it rebounded as several exchanges brought it back online. As its price crashed, exchanges like dYdX decided to freeze it in a bid to prevent more losses. Some have now started to allow traders to trade it.
Solana price prediction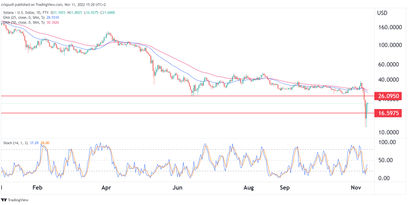 The daily chart shows that the SOL crypto price has been in a strong downward trend in the past few months. This sell-off continued this week because of its exposure to Alameda Research and FTX. Recently, however, it has made a strong recovery although it remains below all moving averages.
Solana also remains below the important resistance level at $26.10, which was the lowest point this year. It remains below all moving averages while the Stochastic Oscillator has moved above the oversold level
Therefore, this recovery is likely a dead cat bounce, meaning that the coin will likely resume the bearish trend in the near term. If this happens, the coin will likely drop to the next support level at about $10.